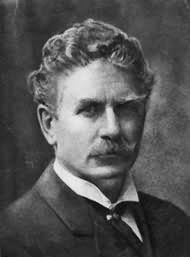 TEMPORA MUTANTUR
by: Ambrose Bierce (1842-1914)
"THE world is dull," I cried in my despair:
"Its myths and fables are no longer fair.
"Roll back thy centuries, O Father Time:
To Greece transport me in her golden prime.
"Give back the beautiful old gods again--
The sportive Nymphs, the Dryad's jocund train,
"Pan piping on his reeds, the Naiades,
The Sirens singing by the sleepy seas.
"Nay, show me but a Gorgon and I'll dare
To lift mine eyes to her peculiar hair
"(The fatal horrors of her snaky pate,
That stiffen men into a stony state)
"And die -- becoming as my spirit flies,
A noble statue of myself, life size."
Straight as I spoke I heard the voice of Fate:
"Look up, my lad, the Gorgon sisters wait."
Lifting my eyes, I saw Medusa stand,
Stheno, Euryale, on either hand.
I gazed unpetrified and unappalled--
The girls had aged and were entirely bald!
from
Poetry Archive
It's the birthday of satirist and short-story writer
Ambrose Bierce
,
(books by this author)
nicknamed "Bitter Bierce," born near Horse Cave Creek, Ohio (1842).
He enlisted in the Union Army a week after the Civil War began and fought for four years in some of the bloodiest battles of the war. He was shot in the head during one battle and was shipped to the hospital on a flatcar surrounded by wounded and dying soldiers, an experience that added to his cynicism. After the war ended, he worked on a mapping expedition for the U.S. Army, which took him from Omaha to the West Coast. He had been promised a higher military rank if he completed the job, but the offer fell through, and so he left the military and stayed in San Francisco. At the time, San Francisco was full of outlaws, millionaires who had made their fortunes in the gold rush, sailors, gamblers, and writers. There were six newspapers for the town of 60,000, and the year before, Mark Twain had started working for one of the papers.
Bierce became a journalist there, and within a few years, he was labeled "the most irreverential person on the Pacific Coast," and "the wickedest man in San Francisco." He started writing dark short stories like "Chickamauga" (1889) and "An Occurrence at Owl Creek Bridge" (1890).
Then both his sons died within a few years — one from pneumonia and one from suicide — and his wife had an affair with another man. He published his best-known work, The Devil's Dictionary (1906), and a few years later, at age 71, he decided to travel to Mexico, where Pancho Villa was leading a revolution, and he was never heard from again. Many people claimed to have seen him in Mexico, but those rumors were never confirmed, and his body was never found.
from
The Writer's Almanac